INVISIBLE SUNSCREEN SPF 50+ by rituals Review
As a Black woman with oily skin, the quest for the perfect sunscreen has been a long and challenging journey. Sun protection is non-negotiable, but the struggle to find a formula that doesn't leave me looking like a ghost or exacerbate my oily skin has been real. Enter The Ritual of Karma Face Cream SPF 50+, a sunscreen that promises consistent, high broad-spectrum protection with a matte finish. Skeptical but hopeful, I decided to put it to the test.
Claims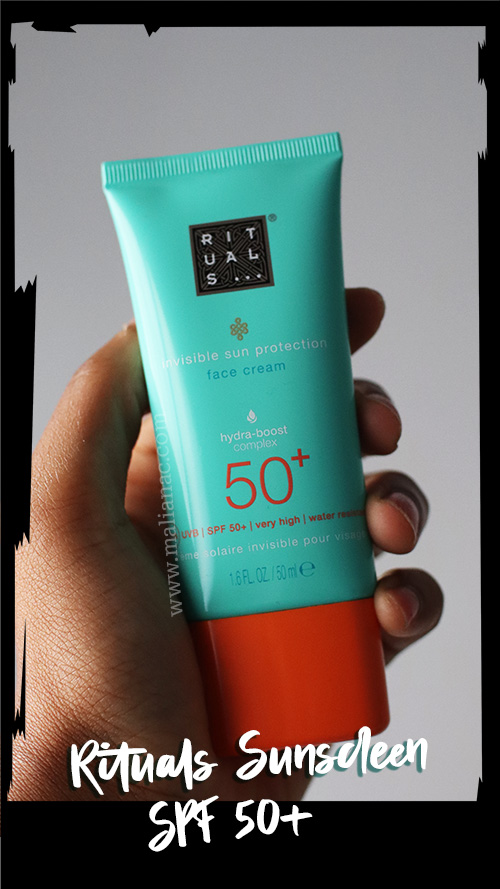 The Ritual of Karma Face Cream SPF 50+ boasts an impressive list of features:
Provides reliable broad-spectrum protection,
Is water-resistant, and
Absorbs rapidly into the skin.
The hydrating cream is said to soothe dehydrated skin and restore suppleness and elasticity, all while leaving a mostly matte finish. Intriguingly, it promises to achieve this without the dreaded white cast or pilling that often plagues those with melanin-rich skin tones.
Rituals invisible sunscreen ingredients
The product is infused with a Hydra-Boost Complex, including white tea, vitamin E, and lotus flower. This blend is not only hydrating but also packed with natural antioxidants. Additionally, the sunscreen contains a mixture of red and micro-algae, claiming to naturally boost the sun protection factor and provide added skin protection.
Testing the invisible sunscreen spf 50+ on Oily Skin:
Putting Ritual's invisible sunscreen SPF 50+ to the test, I applied it to my clean, moisturized face. The first pleasant surprise was the absence of a white cast. This is a game-changer for us Black women who often struggle with sunscreens that leave an ashy residue on our skin.
This invisible sunscreen applied smoothly and absorbed quickly, living up to its promise of a mostly matte finish. Unlike many sunscreens that leave a shiny or greasy residue, this product left my skin with a velvety texture. I noticed an immediate boost in hydration, which is a plus for those with oily skin that still needs moisture.
Wearing sunscreen daily is crucial for protecting our skin from harmful UVA and UVB rays. The Ritual of Karma Face Cream SPF 50+ claims to provide consistent protection even on cloudy days. Throughout the day, the matte finish remained intact, and I didn't experience the usual oil slick that often occurs with other sunscreens.
The Verdict
The Ritual of Karma Face Cream SPF 50+ has earned its place in my skincare routine. Finally, a sunscreen that caters to the unique needs of Black women with oily skin! The absence of a white cast, rapid absorption, and mostly matte finish make it a standout product in the market. The hydrating elements and natural antioxidant blend are an added bonus for maintaining healthy skin.
For Black women with oily skin, finding a sunscreen that ticks all the boxes can be a daunting task. The Ritual of Karma Face Cream SPF 50+ offers a solution to this ongoing struggle, providing effective sun protection without compromising on the matte finish we desire. It's time to bid farewell to the days of compromising on sunscreen and embrace the ritual of protecting our skin with a product designed with us in mind.